Rage against the dimming light: Irish rebel over lighthouse LED makeover
Proposals to install low-energy devices in seven coastal beacons in the north and the republic have angered campaigners, who say the enchanting 'loom' of the beams will be lost
The "loom of the light" is a phenomenon that lets you see the glow of a lighthouse from over the horizon. Particles of water vapour in the atmosphere scatter the light upwards so it can be glimpsed further than the line of sight. It is an optical wonder that has delighted – and guided – mariners for centuries.
But now some fear an environmental push towards low energy will extinguish a loom that stretches across the Irish Sea, draining beauty from the nocturnal landscape.

DISTANCE LEARNING RESOURCES
To support all educators and parents teaching from home in the weeks ahead, the World Ocean Observatory is pulling together a compendium of home-study tools and resources for teaching and learning about the ocean. These resources can be used by parents, schools, educators and others to address the educational gaps being created by local and national 'shelter in place' initiatives to help flatten the curve on the Covid-19 outbreak. This list of resources is a work in progress: please reach out if you have other key elements that we should be sharing with our global community.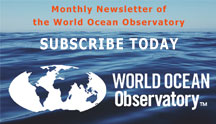 WORLD OCEAN EXPLORER 2020
With a game capable of reaching a global audience, WORLD OCEAN EXPLORER can expand interest in ocean issues and habitats, and excite students about the infinite possibilities associated with ocean exploration. LEARN MORE.