The pick of the world's best flora and fauna photos, including a perky grasshopper and a sleepy turtle Continue reading...
Rapid transformation needed, Kevin Anderson says, particularly in lifestyles of rich Kevin Anderson, one of the world's leading climate scientists, had a familiar reaction to the latest report from the government's climate advisers, which was published this week. The 196-page document by the Committee on Climate Change (CCC) delivered a stinging rebuke of the government's record and said ministers must urgently up their game if the UK is to avoid a significant rebound in carbon emissions after the coronavirus crisis and meet its 2050 net zero carbon target. Continue reading...
For many Americans across the US, water bills are becoming unaffordable. That poses a threat to health, housing and families Water is essential to life. Yet running water is becoming unaffordable across the US, in cities large and small. Water bills weigh heavily on many Americans as utilities hike up prices to pay for environmental clean-ups, infrastructure upgrades and climate emergency defenses to deal with floods and droughts. Federal funding for America's ageing water system has plummeted, and as a result a growing number of households are unable to afford to pay their bills; millions of homes are being disconnected or put into foreclosure every year. As we've seen during the coronavirus pandemic, unaffordable water poses a threat to individual and public health, housing and families. It also poses a threat to water quality: if people can't afford to pay their bills, utility companies can't raise the money needed for clean-ups. Continue reading...
Wildlife Services kills thousands of animals at ranchers and farmers' behest. But it operates with little oversight – and critics describe it as out of control The call came over Tony Manu's police radio one March day in 2017: some sort of pipe had exploded in the hills outside Pocatello, Idaho and the son of a well-known local doctor was hurt, or worse. Related: Protests target Spanish colonial statues that 'celebrate genocide' in US west Continue reading...
When Onon the common cuckoo took off from Mongolia last June no one expected him to make a 26,000km round trip to southern Africa When Onon took off above the rolling hills of the Khurkh valley in Mongolia last June, researchers had no idea if they would see him alive again. Along with one oriental cuckoo and three other common cuckoos, each fitted with a tiny tracking device, he was about to embark on an epic journey to southern Africa. Last month, he was the only bird to return safely with his tracker intact. Continue reading...
Exclusive: Guy Abrahams wrote to CBA for clarity on how four recent investment decisions stack up against its own climate policies Activist shareholders claim the Commonwealth Bank has breached its own climate policies by making a series of recent loans to projects that expand the global gas sector. The bank says its financing of new gas projects – including the massive Permian Highway gas pipeline in the United States – is consistent with its "unequivocal" support for the Paris climate agreement, on the basis that gas is a "transition" fuel that can supplant coal-fired power generation. Continue reading...
Main Street Bucksport Partners with W2O for International Maritime Film Festival
Bucksport, Maine, USA | April 2019 Main Street Bucksport is pleased to announce a newly formed partnership with World Ocean Observatory to produce the International Maritime Film Festival. They join media partner WoodenBoat Publications and community partner Island Institute. Since 2003 World Ocean Observatory has been a major utility for ocean communication as a means to advance public awareness and political will, and is dedicated to providing information and education about the health of the ocean. Online at worldoceanobservatory.org. The International Maritime Film Festival (IMFF) is now in its 4th year and is an annual juried contest of films celebrating the heritage, spirit of adventure, and ingenuity of boats and waterborne pursuits. It is the premier event for maritime-themed film making. This year's festival takes place at the historic Alamo Theatre in downtown Bucksport from September 27-September 29, 2019. A program will be announced and tickets will go on sale in July 2019. IMFF accepts films on a broad range of maritime subjects. These include, but are not limited to, voyaging, racing, working, leisure, boatbuilding and restoration, historical documentary, and environment and science. Judging is not category-specific; rather, all films will be evaluated in relation to each other, in one of two tracks: Feature Length (40 minutes or more), or Shorts (under 40 minutes). All films are to be in English, or to carry English subtitles. A Grand Prize of $1,000 will be awarded in the Feature Length category and the Runner Up will receive $500. A Grand Prize of $500 will be awarded to winning Short Film and the Runner Up will receive $250. Submissions may be made online at maritimefilmfestival.com.
World OCean Radio Has Gone Global
Aug. 7, 2014 | This is a big week for the World Ocean Observatory. First, it is a major milestone for World Ocean Radio: we broadcast our 300th audio episode since World Ocean Radio first aired in 2009. And second, this week we are announcing the launch of an expansion of World Ocean Radio into four additional languages. A selection of broadcasts (see www.WorldOceanObservatory.org/world-ocean-radio-global) are now available in French, Spanish, Portuguese, and Swahili, translated from our audio archive and representing an extraordinary opportunity to extend our communication efforts beyond English and into major geographical areas that have been outside our broadcast capacity. We now have the opportunity to offer our radio feature to outlets in France, Spain, Portugal, all the nations in Central and South America, and in certain regions of Africa. World Ocean Radio brings discussion of the ocean and its impact on all aspects of human survival to a global audience. Provided at no cost, this weekly service is intended to provide responsible information and advocacy toward greater understanding of the meaning of the ocean for its rapidly degrading state, the impact on our lives, and a variety of specific actions that can be taken-–both by governments and individuals-–to mitigate the problems, modify behaviors, evolve policies, implement change, broaden public awareness, and build political will. We are extremely proud of this accomplishment and are gratified by the enthusiastic and positive response we get from listeners all over the world. Learn more at http://www.WorldOceanObservatory.org/about-world-ocean-radio or by visiting http://www.WorldOceanObservatory.org/world-ocean-radio-global Connect with our July newsletter at http://eepurl.com/0p1fH. As always, thank you! ____________________________________________________ Here are five ways to help World Ocean Radio to engage a larger, global audience: 1. Share World Ocean Radio Forward each week's broadcast to everyone you think might be an ally. 2. Link to World Ocean Radio on your organizations' website. Consider how your organization might help by linking to World Ocean Radio on its web page, sharing it among fellow workers, incorporating it into the work it does, and promoting it to the population you serve. 3. Share World Ocean Radio with faculty & students If you are an educational institution, a museum, aquarium, or environmental program, share World Ocean Radio with your faculty and students, incorporate it into curriculum, use it to stimulate and focus discussions, promote it as a membership or community service, share it formally and informally as an educational tool, even use it as a marketing opportunity to recruit new audience with ocean interest to your programs. 4. Explore how these broadcasts might promote mutual goals Identify other partners or associations with which you work and explore ways in which these broadcasts might promote mutual goals and collective objectives by sharing with their constituents to demonstrate professional and collective interest. 5. Look for broadcast outlets in your area, especially if you are a Spanish-, French-, Portuguese-, or Swahili-speaking listener Find local, regional, or national networks, college, community, or environmental radio stations. Recruit them to the ocean cause, linking your organization to World Ocean Radio and growing your outreach and civic engagement. World Ocean Radio can speak loudly and widely for us all. Become its champion; commit to this simple action; make a connection; help us spread a message for the ocean that will be amplified and echoed across the sea that connects us all.
No Refuge: Tons of Trash Cover Remote Alaskan Shores
A great article by Carl Safina about the tsunami debris (Japan, 2011) washing up on the remotest shores of the Alaskan wilderness. http://ow.ly/mAk4E
UN Secretary Ban Ki-moon to Launch "Oceans Compact"
UN Secretary-General to Launch Oceans Compact at Yeosu International Conference NEW YORK, 10 August ― United Nations Secretary-General Ban Ki-moon will launch the Oceans Compact—an initiative to strengthen United Nations system-wide coherence to deliver on its oceans-related mandates--on Sunday, 12 August, in Yeosu, Republic of Korea. The new Compact, "Healthy Oceans for Prosperity—An Initiative of the Secretary-General," aims to bring together all parts of the UN system to improve the coordination and effectiveness of the work of the UN on oceans. Mr. Ban will launch the initiative at the Yeosu International Conference to commemorate the 30th Anniversary of the Opening for Signature of the United Nations Convention on the Law of the Sea. "The world's oceans are key to sustaining life on the planet," the Secretary-General says in the Compact, "constituting a conduit for ninety per cent of the world trade, and for connecting people, markets and livelihoods." But he adds that humans have put the oceans under risk of irreversible damage by overfishing, climate change and ocean acidification, increasing pollution, unsustainable coastal area development, and unwanted impacts from resource extraction, resulting in loss of biodiversity, decreased abundance of species, damage to habitats and loss of ecological functions. The Oceans Compact aims to mobilize and enhance the UN system´s capacity to support actions by Governments, and promote the engagement of intergovernmental and non-governmental organizations, scientists, the private sector and industry to tackle challenges in protecting and restoring the health and productivity of the oceans for the benefit of present and future generations. The Compact sets out a strategic vision for the UN system on oceans, consistent with the Rio+20 outcome document, "The Future We Want," in which countries agreed on a range of measures to be taken to protect the oceans and promote sustainable development. The Oceans Compact also supports the implementation of existing relevant instruments, in particular the 1982 United Nations Convention on the Law of the Sea. With the goal of achieving "Healthy Oceans for Prosperity", the Compact establishes three objectives: protecting people and improving the health of the oceans; protecting, recovering and sustaining the oceans' environment and natural resources; and strengthening ocean knowledge and the management of oceans. In addition to providing a platform for all stakeholders to collaborate and accelerate progress toward promoting healthy oceans, the Compact will be underpinned by pragmatic short-, medium- and long-term strategies to increase coordination and cooperation at the national, regional and global levels as well as within the United Nations system. The intent is to address the cumulative impacts of sectoral activities on the marine environment, including through implementing ecosystem and precautionary approaches. In the Compact, the Secretary-General proposes the creation of an Oceans Advisory Group, composed of Executive Heads of involved UN system organizations, high-level policy-makers, scientists, leading ocean experts, private sector representatives, representatives of non-governmental organizations and civil society organizations. The Advisory Group would also advise on strategies for mobilizing resources needed for the implementation of the Oceans Compact Action Plan. Background The launch of the Oceans Compact follows the announcement by the Secretary-General earlier this year of his Five-Year Action Agenda, which includes oceans as a main category. In that context, he decided to give strong emphasis to the importance of oceans and their role in sustainable development by putting forward the idea of an Oceans Compact that would commit the wide United Nations System to furthering "healthy oceans for prosperity." The timing of this initiative is especially significant as 2012 marks the 30th anniversary of the opening for signature of the United Nations Convention on the Law of the Sea, which sets out the legal framework within which all activities in the oceans and seas must be carried out. The Convention is considered of strategic importance as the basis for national, regional and global action and cooperation in the marine sector and as an important contribution to the maintenance of peace, justice and progress for all peoples of the world. The Division for Ocean Affairs and the Law of the Sea (DOALOS) in the United Nations Office of Legal Affairs (OLA) has been organizing a series of events at UN Headquarters to commemorate the thirtieth anniversary of the Convention, including a panel discussion held on World Oceans Day (8 June 2012 - see: www.un.org/Depts/los/reference_files/worldoceansday.htm) and the production of a video entitled "UNCLOS at 30" (available at www.un.org/Depts/los/index.htm). The commemoration will continue at the General Assembly's sixty-seventh session, with two days of high-level meetings, on 10 and 11 December 2012, and the publication of a pamphlet and a commemorative booklet on UNCLOS. For further information, please contact Dan Shepard, UN Department of Public Information, 1 212-963-9495, email shepard@un.org

DISTANCE LEARNING RESOURCES
To support all educators and parents teaching from home in the weeks ahead, the World Ocean Observatory is pulling together a compendium of home-study tools and resources for teaching and learning about the ocean. These resources can be used by parents, schools, educators and others to address the educational gaps being created by local and national 'shelter in place' initiatives to help flatten the curve on the Covid-19 outbreak. This list of resources is a work in progress: please reach out if you have other key elements that we should be sharing with our global community.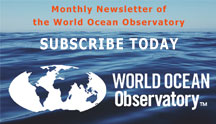 WORLD OCEAN EXPLORER 2020
With a game capable of reaching a global audience, WORLD OCEAN EXPLORER can expand interest in ocean issues and habitats, and excite students about the infinite possibilities associated with ocean exploration. LEARN MORE.